A game changer for healthcare simulation
SimCapture Pro is a cloud-based and cost effective solution to record, debrief and track simulation learning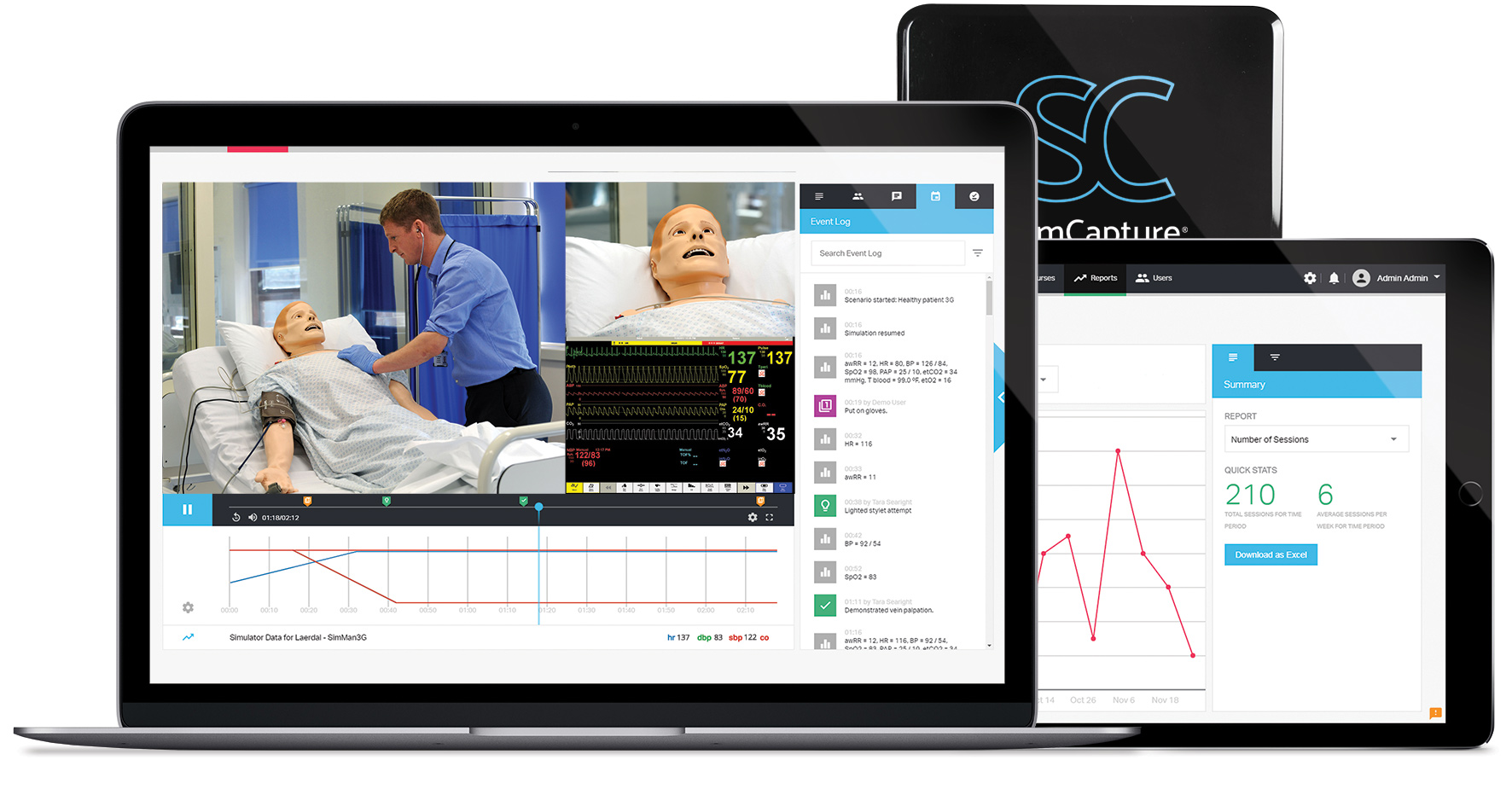 ---
Video-driven improvement
SimCapture Pro leverages a remarkably small on-site audiovisual footprint and a fully cloud-based software and storage infrastructure to remove traditional pain-points associated with audiovisual installations and IT maintenance. Thanks to subscription pricing, any size healthcare simulation program can now benefit from B-Line Medical's best-in-class simulation management platform. Should your program outgrow SimCapture Pro, you can seamlessly upgrade to SimCapture Enterprise.
Fully cloud-based and secure
SimCapture Pro's turnkey solution is based in a secure cloud environment that eliminates the hassle and expense of a local centralization server. Security features include encrypted data transfer, data redundancy, and role-based security. Its Vue Interface™ is mobile friendly allowing for debriefing or administrative work on a tablet.
Affordable subscription pricing
With subscription pricing and no elaborate audiovisual or IT infrastructure to worry about, Any educator can now capitalize on the power of a comprehensive video-driven learning platform. Community college, first responder, psychology, and allied health educators can all benefit and leverage SimCapture Pro thanks to its unique feature set to price ratio. Contact us to learn more about SimCapture Pro can benefit your healthcare education program.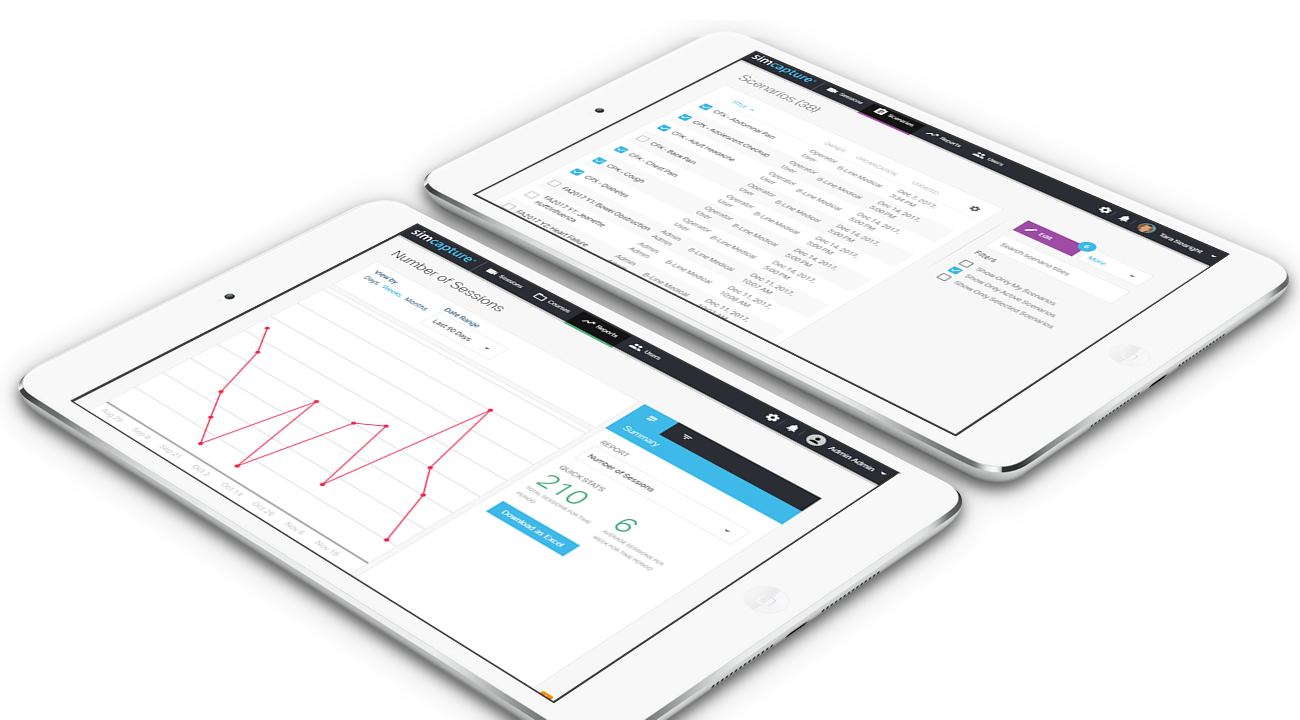 ---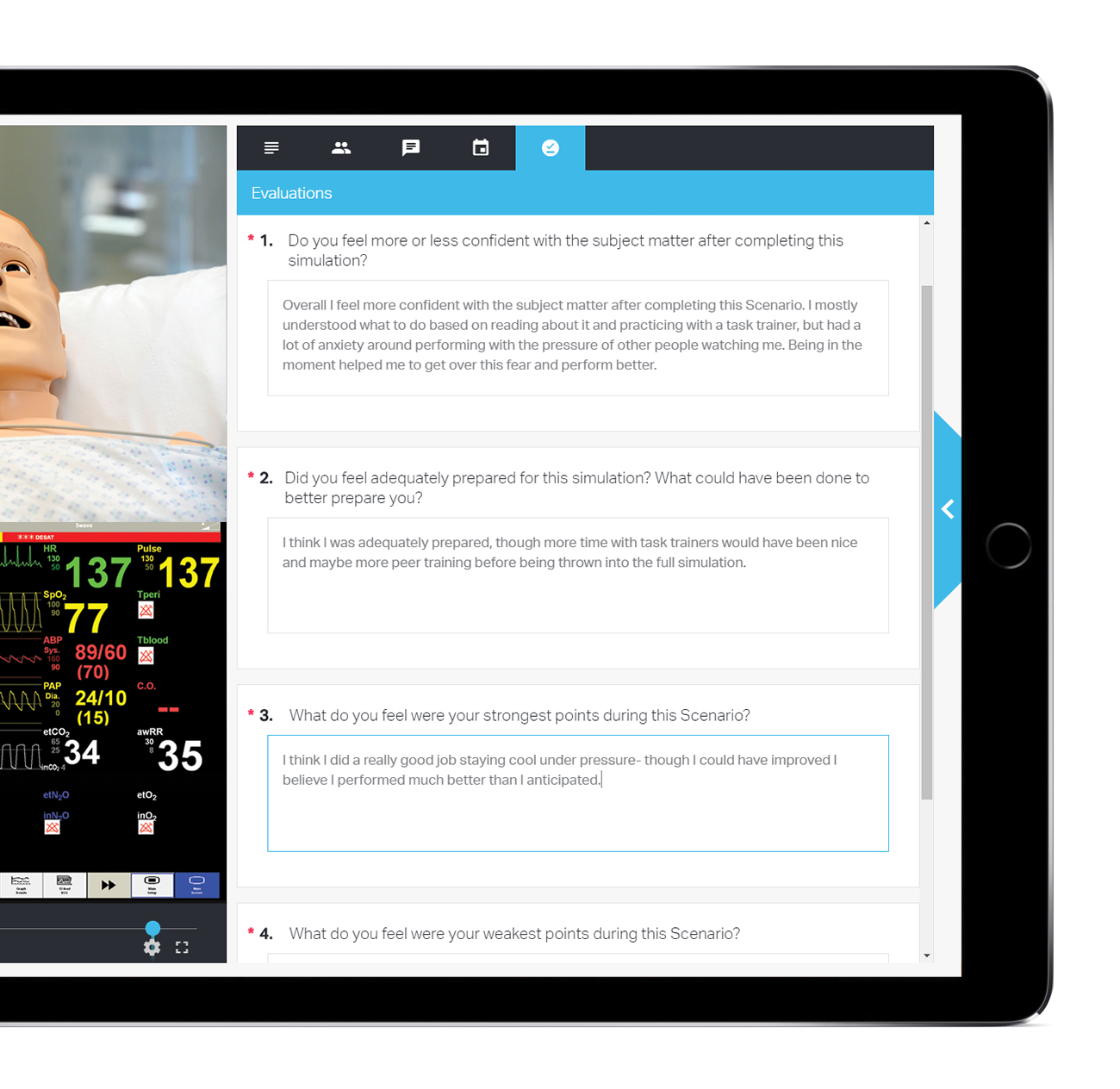 Debrief and assess
Tools are seamlessly integrated in sessions
SimCapture Pro educators can annotate sessions, leverage simulator event and trend data, and administer learner self-reflection evaluations for a true 360 degree view during debriefing and when providing additional feedback to learners.
Learn more
---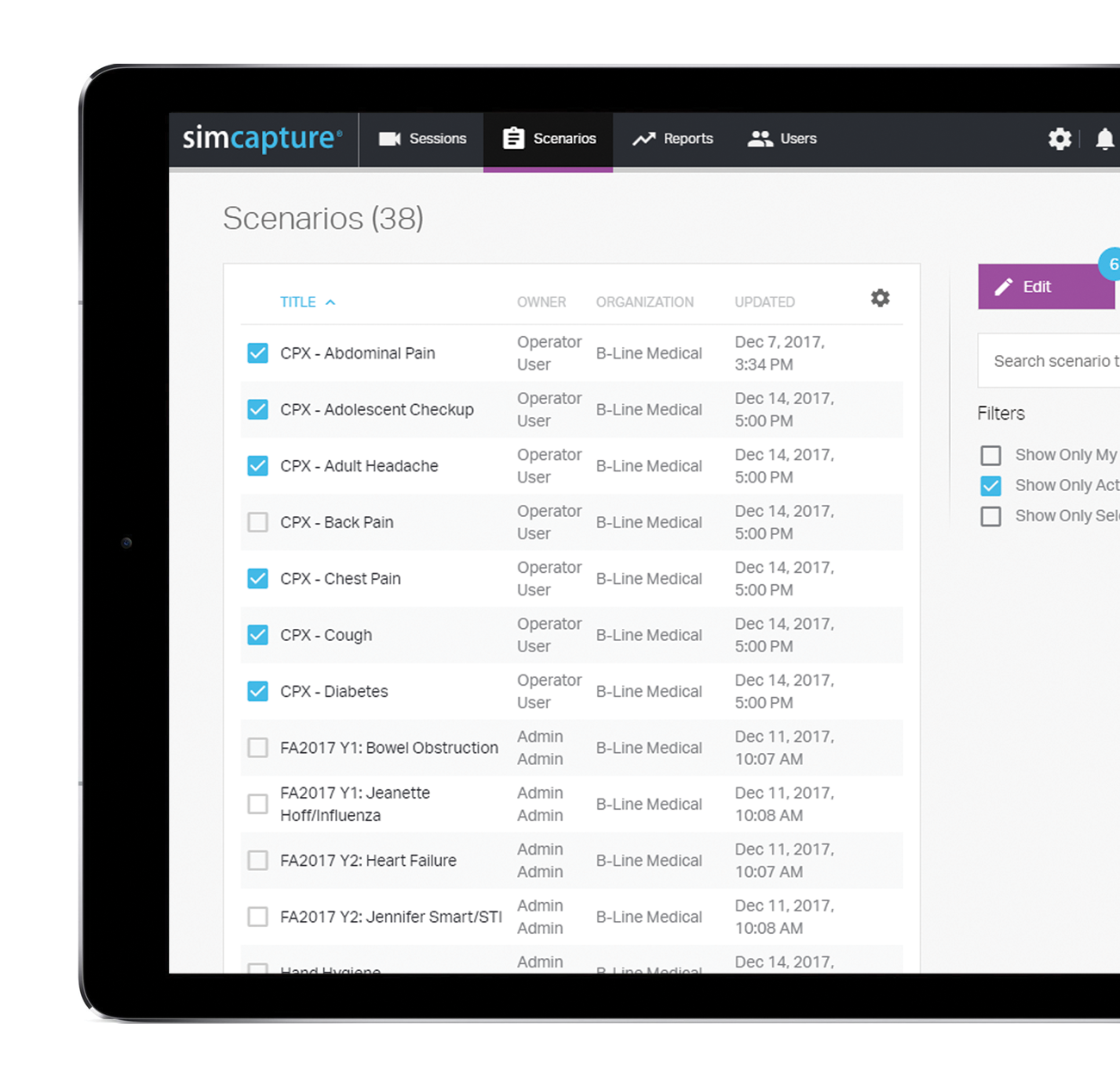 Collaborate with anyone
Build scenarios and share sessions securely
Build simulation scenarios with your colleagues by leveraging editing and ownership rights and detailed activity histories or securely share your sessions with anyone worldwide! Scenarios include learning objectives, predefined annotations, video deletion policies, organizations and attachments.
Learn more
---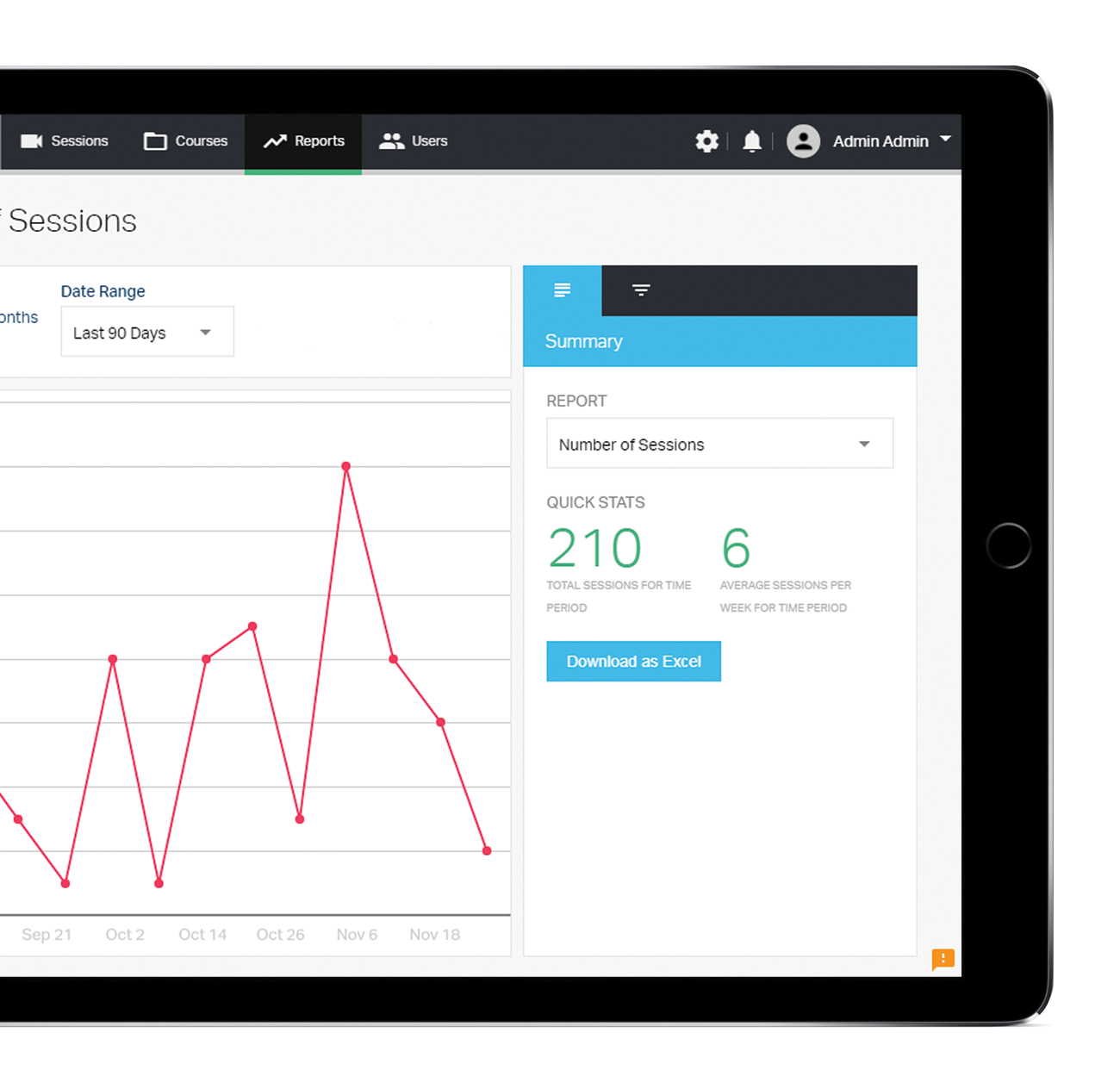 Activity tracking and reports
Usage, sessions, learner hours, and more
SimCapture Pro automatically tracks valuable information about program utilization such as total sessions, learner contact hours and recording hours. Reports can be filtered by scenario, organization, simulators and locations. They can also be exported to Excel to share with other educators or administrators.
Learn more
---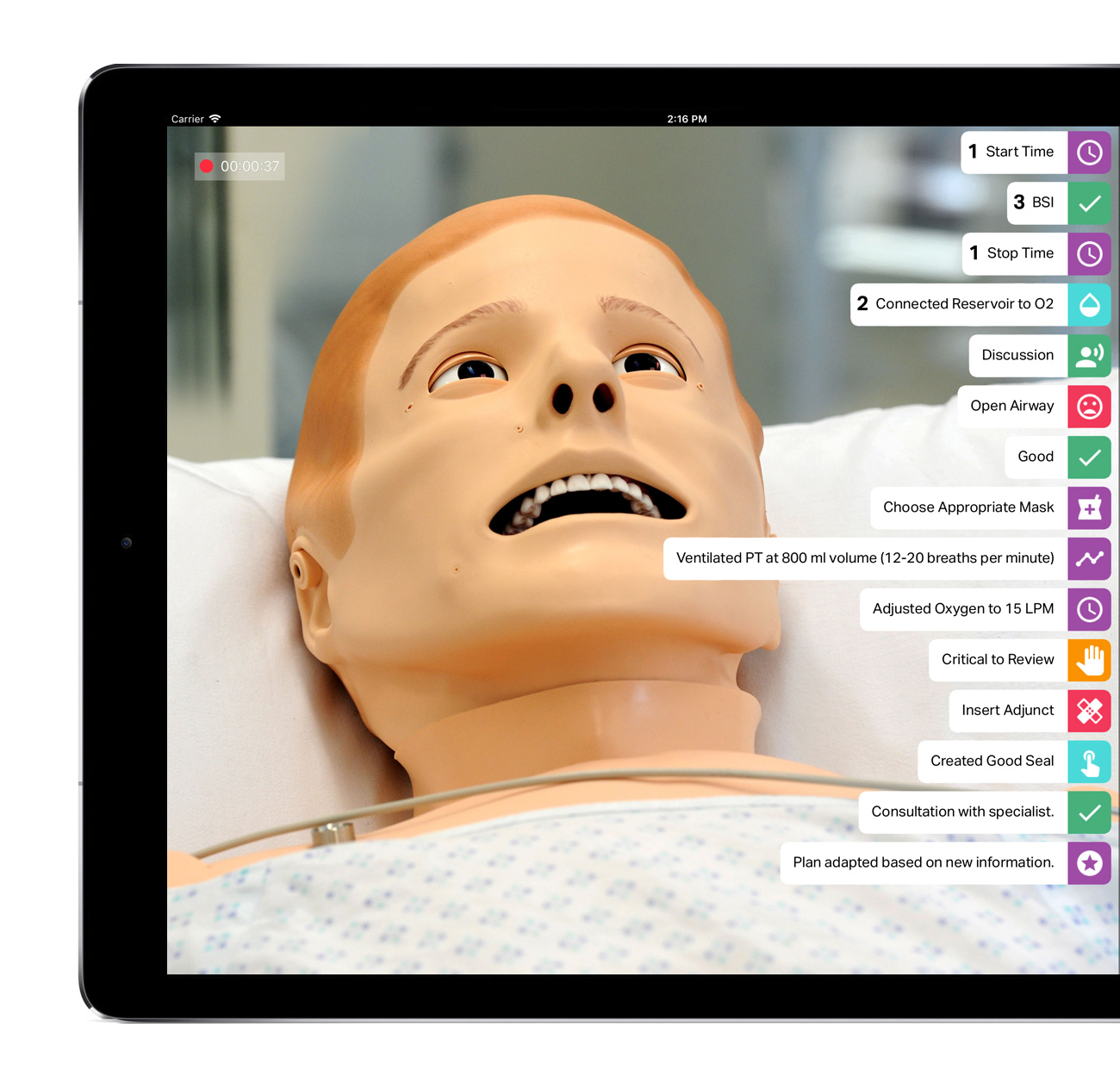 Mobile capture
Turn your phone / tablet into a SimCapture
Extend the reach of your SimCapture Pro platform by turning any iOS mobile phone or tablet into a capture and annotation device. Download the SimCapture Pro Mobile App and your captured mobile sessions seamlessly sync with your center's dedicated SimCapture Pro devices in the cloud in real-time.
Request quote
Cloud software platform
› Synchronized capture of multiple camera angles
› Simulator data capture and visualization
› Medical device capture (EKG, Ultrasound, EMR)
› Learner and faculty tracking and portfolios
› Video annotation and session self reflection
› Debrief from anywhere using just a browser
› Learner, faculty and facility usage reports
› Customizable scenarios, roles and permissions
› Share sessions securely with anyone in the world
› Flexible and scalable - one room or many
› Mobile capture and annotation with any iOS device
› Secure, mobile-friendly and cloud-based
› Best-in-class training and 24/7 Support
› Seamless upgrade path to SimCapture Enterprise
Onsite audiovisual equipment
› SimCapture Node capture device with cloud centralization and backup
› Two HD cameras with integrated boundary microphones OR
› Up to four HD IP cameras with seperate audio module
› Optional medical device capture (EKG, Ultrasound, EMR)